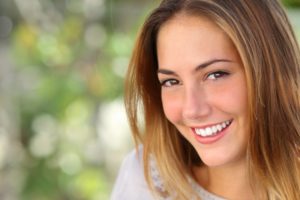 Creating a straighter smile has never been easier thanks to technology like Invisalign. However, it isn't the only method available for a better-looking smile. Not only can you fix misalignments with porcelain veneers, but you can also fix multiple problems in your mouth simultaneously. Before you begin either treatment though, you should consider the different circumstances each one provides.
Regardless of the treatment you choose, you can expect a more beautiful smile by the end of it. Learn the differences from your dentist in Plano today!
What to Expect from Invisalign Treatment
Invisalign is specifically designed to fix overcrowding and misalignment issues in the mouth over a period of 12 to 18 months. Through a series of clear aligners worn and swapped out every few weeks, you can get a straighter smile without the use of metal braces. This is an ideal solution for those trying to retain a professional image or for those who are sensitive to metal braces.
One of the main benefits of clear aligners besides their reduced treatment time is their removability. This means you won't have to adjust your brushing technique or eating habits to have a straight smile.
What to Expect When Getting Porcelain Veneers
Porcelain veneers in Plano are another effective solution for misalignment issues in the mouth. These wafer-thin sheaths of porcelain are placed directly onto the surface of your teeth, acting as your new, natural tooth. Porcelain veneers can cover close gaps and straighten your teeth incredibly well, but this depends on the severity of the gaps.
Before placement, your dentist will need to shave down a very small amount of tooth enamel first, then measure the area where the new veneer will go. Then they'll use that information to produce the veneers at a later date.
Which Option is Best for You?
One of the biggest differences between these two methods is the treatment time. Porcelain veneers are ideal if you want to cover the gaps in your smile quickly, however it is purely cosmetic. This means it's unlikely that your insurance will cover the treatment. However, if you have several other issues in your smile, such as chips, cracks, or discoloration, porcelain veneers can address those at the same time. Before treatment, you'll discuss your smile makeover with your dentist in Plano to see what can be done.
While Invisalign treatment takes 12 to 18 months to complete, you won't just have a straighter smile by the end of it. You'll also have a better bite than you did before, making eating and brushing easier to do. Furthermore, porcelain veneers can still come off and won't last forever. As long as you wear your retainer as directed by your dentist, you'll keep your straight smile for many years to come.
In conclusion, if you want to fix additional issues besides misalignment, you'll find porcelain veneers to be more viable. If you're willing to undergo treatment and reap the more permanent benefits of straighter teeth, Invisalign is right for you. Schedule an appointment with your dentist today so they can help you choose!
About the Author
Dr. Afshin Azmoodeh has been practicing dentistry for over 20 years. After earning his dental degree from the Texas A&M College of Dentistry, he continues to expand his knowledge in the ever-growing world of dentistry. Because of his dedication, he was nominated as one of "America's Best Dentist" in 2015 and 2016. To learn more about his Invisalign and porcelain veneers treatments, contact him at (214) 227-1000 or visit his website.