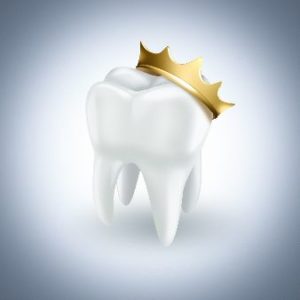 As you might know, if you've ever spent much time in a dental office, dentistry is one of those fields that has its own language. As a patient, it can be hard to understand some of the terminology your dentist uses to describe your treatment options, let alone understand why you might need a particular treatment in the first place! Since we get so many questions about what dental crowns in Plano are, what they're used for, and whether a patient is a good candidate for them, we thought we'd write a blog with some basic information about this common procedure. Keep reading to learn more!
What Is a Dental Crown?
A crown, also called a "cap," is a tooth-shaped covering that fits over an existing tooth to restore its strength, function and appearance. Crowns can be made of a variety of materials, including gold, porcelain or zirconia.
Your dentist in Plano will recommend the best material based on the location of the tooth and other factors.
What Problems Can They Fix?
Crowns are perfect for fixing all of the following issues:
Large cavity – When a cavity is particularly large, it typically can't be restored with a filling because the majority of the tooth structure has been destroyed by decay. A crown replaces that lost tooth structure so the tooth can function normally.
Small crack – For a relatively small crack or fracture, a crown will hold the tooth together and provide relief from any sensitivity associated with the fracture. However, if a crack is too large, there's a possibility that the tooth may need to be extracted.
Poor appearance – If you have a front tooth that has been damaged in some way and is severely stained, chipped, or cracked, a crown can restore the tooth to its original appearance. It will be matched in size and color to the rest of your teeth, so it will blend in seamlessly with your smile.
Root canal – If the nerve of a tooth becomes infected, a root canal must be done to save it, which can cause the tooth to become brittle and weak because it's lost its blood supply. A crown restores the strength of the tooth so it can withstand chewing forces without breaking.
Are You a Good Candidate?
If you're wondering if a crown might work for you, the best thing to do is schedule a consultation with a 'dentist near me.'
Your Plano dentist will start by asking you about your goals and will do a thorough exam to assess any damaged teeth. You'll find out what your options are and whether a crown is the best treatment for your situation.
About the Author
All of the dentists at Legacy Trails Dental excel at general, cosmetic and restorative dentistry. They understand that dental work can be overwhelming and always take the time to address any concerns you might have about your treatment options. If you have any questions, they can be reached via their website or at (214) 227-1000.