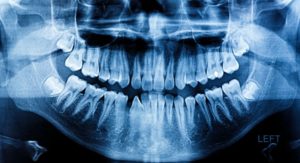 If you've had multiple dental visits, there's a good chance your Plano dentist wanted to perform X-rays on your mouth. If this has you feeling apprehensive, then you'll want to keep reading. Since X-ray technology has advanced, your dentist is able to discover internal problems far more easily with less radiation than ever before. Your health and safety are both your dentist's highest priority, so he wanted to take the time to explain why he takes X-rays and how they improve your overall dental treatments.
They're a Valuable Diagnostic Tool
While your dentist can learn a lot by examining your mouth with the naked eye, it isn't enough to figure out what's really going on, especially inside your teeth and gums. With the use of radiographs, he can view not only between your teeth but inside them as well. He can view the tips of your tooth roots and the bone underneath your gums.
With X-rays, your dentist can confirm if you have cavities and examine the extent of current decay. If you come in with a toothache and can't explain what's causing it, your dentist can use an X-ray to confirm if cysts, abscesses, or other masses are causing your tooth pain. If you're back molars hurt, he can confirm if it's your wisdom teeth attempting to erupt. He can also confirm how much bone loss has occurred from periodontal disease.
X-rays Allow for Better Treatment Plans
Your dentist in Plano is more comfortable offering treatment when he knows what to expect beforehand. Taking an X-ray gives him this peace of mind, allowing him to create a more comprehensive treatment plan that meets your needs. This is especially important when observing developing teeth in younger patients.
X-rays are needed whenever your dentist intends on performing surgery or placing restorations as well. If you decide to get dental implants, for example, then he needs to confirm your bone has enough density to accept an implant. If you need a root canal performed, he'll take an X-ray to examine the extent of the damage that's already occurred before operating.
How Does My Dentist Practice X-ray Safety?
To make patients more comfortable, your dentist takes all the necessary precautions to minimize radiation associated with X-rays. Through the use of digital X-rays, your dentist minimizes radiation by 90 percent! Additionally, since they're digital, your dentist can obtain images much quicker compared to traditional film-based X-ray machines. Of course, to ensure total safety, your dentist also requires that you wear a leaded apron for added protection to the abdominal area and a leaded collar to protect your thyroid.
Skipping out on X-rays is not worth it, especially with today's technology. Schedule an appointment with your Plano dentist today to make sure your oral health is in top condition!
About the Author
Dr. Afshin Azmoodeh earned his Doctor of Dental Surgery degree from the Texas A&M College of Dentistry. Today, he's been dedicated to continuing his education and been nominated as one of America's best dentists twice! To learn more about his practice, contact him at (214) 227-1000 or visit his website.