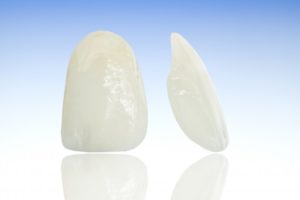 When you look into the mirror, are you happy with the way your smile looks? Do you have minor imperfections in your teeth like gaps, crookedness, misalignments or stains? If any of this applies to you, then your local dentist says you could benefit from porcelain veneers in Plano. As you read on, he'll explain what they are and how they can rejuvenate your smile!
What are Porcelain Veneers?
Veneers are thin shells that are custom-made from ceramic material. They provide the ultimate in convenience by fitting right over your existing teeth and overhauling the image of the ivories in the smile zone.
Here are the steps to the procedure:
Numbing – Your dentist will first apply a topical anesthesia to numb your mouth before the procedure starts.
Enamel Prep – The next step is to remove a thin layer of enamel from your teeth, so that your new veneers will adhere properly.
Bite Impressions – After the tooth is prepared, your dentist will then take a series of photos of your mouth and get bite impressions. This data will be sent to a trusted lab that will create your permanent veneers. While you wait, your dentist will fit you with a set of temporary shells.
The Final Visit – Once your veneers are ready, your local professional will have you come back in for your final visit, where your permanent fixtures will be placed.
When you leave your dentist's office, you will look and feel like a brand-new person, as you smile with confidence!
Who's the Right Person for Porcelain Veneers?
The porcelain veneers process is highly successful and popular among patients, but their longevity greatly depends on how you care for them.
With that in mind, here are some of the traits of a good candidate for porcelain veneers:
No Tobacco – He or she won't chew or smoke tobacco, because it will only ruin the beautiful new veneers and stain the other teeth.
Oral Hygiene – A good candidate for veneers is someone who practices excellent oral hygiene, which includes toothbrushing and flossing to remove harmful bacteria and debris that could compromise a beautiful smile.
Early Whitening – The person who gets his or her teeth whitened before getting porcelain veneers is definitely a good candidate. The reason that whitening needs to be done prior to getting veneers is that it causes immature wear and discoloration. Furthermore, there should never be a need to whiten veneers because they are highly stain-resistant.
Now that you're equipped with the information that you need, you can make an informed decision. The process for getting smile perfection with porcelain veneers is simple, so reach out to your cosmetic dentist in Plano to schedule your first appointment. Smile perfection is just a visit away!
About the Author
A graduate of the Texas A&M College of Dentistry, Dr. Afshin Azmoodeh has been practicing dentistry for nearly 20 years. He's still driven by the same passion for helping people that he had when he first entered the field, which is why he was nominated as one of "America's Best Dentists" for two years in a row. Dr. Azmoodeh practices at Legacy Trails Dental and can be reached for more information through his website.