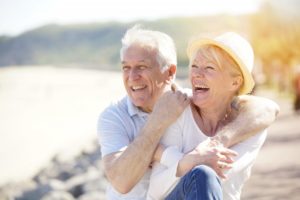 Many dentists recommend dental implants to their patients who have missing teeth. This restorative dentistry treatment provides beautiful, long-lasting results that offer numerous oral health benefits. However, some individuals may shy away from implants because they're heard horror stories about implant failure. Just how often does this unfortunate incident happen, and if you decide to get implants, how can you decrease the chances that they'll fail?
The Success Rate of Dental Implants
Experts have conducted various studies to determine the success rate of dental implants, and the results are overwhelmingly positive! According to some research, implants are successful up to 98 percent of the time.
In the rare cases when implants do fail, it is usually due to one of the following:
The dentist who placed the implants made a mistake. It is very important that you are careful to choose to have your procedure done by someone who has extensive training and experience with implants.
A medical condition stopped the implants from forming a strong bond with the bone around them.
An infection, known as periimplantitis, attacked the gums and bones around the implants, compromising the implants' base of support.
Implant failure may occur at any time, but it is most common in the first year after the placement surgery.
Boosting Your Implants' Chance of Success
After you receive implants, it is vital that you follow your dentist's instructions on how to care for your mouth. In the days following your surgery, you may need to avoid certain foods and take medications to reduce the risk of infection.
Even after your implants have had sufficient time to bond with your body, it's important that you stick to good habits to safeguard your new smile:
Avoid tobacco. Regular use of cigarettes and/or chewing tobacco can slow down healing after surgery and increase the risk of infection.
Stick to an excellent oral hygiene routine. Brushing, flossing, and rinsing with an antibacterial mouthwash can all fight bacteria that would otherwise try to sneak into the tissue around the implants. If you have an implant-supported bridge, be sure to floss underneath the suspended tooth.
Visit your dentist twice a year for checkups. If a problem with your implants does develop, it might be possible to stop the issue before it ruins your smile.
Be aware of any changes in the way your implants feel. If they start to cause you pain, or if they seem loose, contact your dentist in Plano right away.
Be mindful of what you eat. Implants are durable enough to stand up to most of the rigors of everyday life, but you should still avoid foods that are very hard, which could damage your new teeth.
Dental implants enjoy a high success rate! If you would like to find out if this procedure is right for you, your Plano dentist would be happy to talk to you about it.
About the Dentist
Dr. Tatyana Romanoff has been practicing dentistry in Plano for over 10 years now. Throughout her career, she has devoted countless hours to continuing her education, and much of her training has focused on implant dentistry. If you would like to speak to her about restoring your smile, please contact us at 214-227-1000.