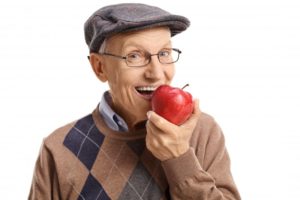 It's reassuring to know that options exist when it comes to reliable tooth replacement. While there are many options, they are not necessarily created equal. If you currently wear dentures or have been for a long time, then you already know what we're talking about. Dentures have a tendency to shift around the mouth while in use, feel uncomfortable and make even the most basic tasks like chewing and talking difficult.
Luckily, there's a better solution. Here are three good reasons to fit your next pair of dentures with dental implants in Plano.
Fewer Problems, Easier Maintenance
If you're relying on denture adhesive to keep your denture in place, even after it's been several years since you first received it, it's a sign that you need an upgrade. Typically, dentures need to be relined every few years or so and replaced every five to seven years due to the constantly changing shape of your mouth.
However, we aren't just talking about a replacement denture; we're talking about placing implants in your jaw so it can be snapped on. Imagine not ever needing denture adhesive again and simply waking up, cleaning your denture and popping it in your mouth. Whether you choose a fixed denture or a removable overdenture, there's no need to compare denture adhesives any longer.
Bone Stimulation, Not Resorption
Many people don't realize that dentures don't work to save the alveolar bone leftover after a tooth is extracted. This bone is located inside the socket after the tooth is gone and generally responsible for stimulating the jaw. If no pressure is being applied directly to this area, it's going to start resorbing into the body, inevitably causing your jaw to become weaker and your biting force to reduce.
By placing implants, you actively stimulate the alveolar bone and the jaw, preventing it from shrinking. You also prevent changes in the shape of your face and cheeks, which will appear hollow or sunken if not effectively stimulated.
A More Secure Prosthetic Overall
Finally, one of the main benefits you should consider is the dramatically improved security of the denture itself. No longer do you have to worry about it shifting or sliding when doing the most basic tasks. Those who use a lower denture are particularly prone to these problems, but not if they have dental implants to hold them in place. Additionally, only about four to six implants are needed to fit an entire arch, so you don't need to spend as much money as you would initially believe.
Why settle for an inferior method to replacing teeth when a dentist in Plano can give you the most secure fit possible? Schedule an appointment today to learn more about the process of fitting dental implants with your denture!
About the Author
Dr. Afshin Azmoodeh earned his DDS degree from the Texas A&M College of Dentistry. After his schooling, he received additional training in implant dentistry, which includes both the placement and restoration of dental implants. To learn how you can improve the fit of your denture or ask other questions about the process, you can contact him through his website.