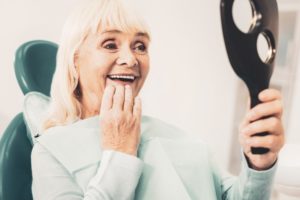 If it's time to do something about those gaping holes in your mouth, look no further than dental implants Plano. Missing teeth can cause you to lose confidence in yourself, as well as create serious problems with your oral health. It may seem unthinkable that one tooth could do so much damage, but it's true. Even one missing tooth can cause the bone to deteriorate, teeth to shift, and additional tooth loss. To prevent this from happening, let's look at the advantages of choosing implant-retained dentures over traditional dentures.
What Are Implant-Retained Dentures?
If you're in need of a full row tooth replacement option, your mind may automatically think of traditional dentures as the go-to solution. Luckily, for you, there's another more secure option: implant-retained dentures. Using the same method as a regular dental implant, your dentist in Plano uses biocompatible implant posts when surgically placing them into your jawbone. Once the implants fuse together with your bone, which can take several months, it creates a secure foundation for the customized denture that will sit on top of the implants. It is secured in place, so you don't have to worry about slippage.
What Are Their Benefits?
Modern advances in technology have made traditional dentures more bearable to wear; however, they still don't provide the level of security and lasting wear like implant-retained dentures. To get a better idea of why you should choose the latter, here are some additional benefits:
You don't have to worry about accidental slippage. Unlike traditional dentures that only sit on top of the gum line, these are tightly secured in place.
Forget the messy adhesives. Traditional dentures rely on your natural suction and adhesives to keep them in place. With implant-retained dentures, there's no need for the goopy mess.
They're cost-effective. Although the initial cost is much more expensive, you'll end up saving money in the long run because you won't need to adjustment them like you would traditional dentures. Implant dentures are designed to last for decades or the rest of your life.
They prevent bone loss. Without a tooth root to keep the bone strong and healthy, it can begin to deteriorate. Dentures only serve to create the appearance of a full smile, but they don't replace the tooth root. Implants serve as your tooth's root, which helps to keep the bone stimulated, preventing it from deteriorating.
You'll have a natural look and feel. With implant dentures, no one will ever be able to tell that your teeth are not natural. They're designed so you can have as much as 70% of your biting force back. Traditional dentures, while they may look natural, do not provide the same level of comfort and confidence because of their easy ability to be removed.
If you want a more secure option that lasts longer, choose implant-retained dentures. Your investment will be well worth it once you see the results and experience the benefits of having a fully restored smile for decades or more.
About the Author
At Legacy Trails Dental, we pride ourselves on taking care of people, not just teeth. When you need assistance, no matter if it's a general cleaning or replacing a missing tooth, we're here to help. Our dental implants and implant-retained dentures are effective methods that can fully restore your smile and give you back the confidence you need. To find out how we can help you, visit our website or call (214) 227-1000.