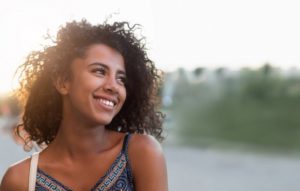 You may not consider your oral health a priority, which is why you haven't bothered calling to schedule your routine checkup and cleaning with your dentist in Plano. You figure that brushing twice a day and flossing is enough to keep any problems at bay. Visiting your dentist every six-months can do more than clean up your smile though. Diligently keeping up with your oral health by seeing your dental professional every six months can do wonders for your oral and overall health. Read on to learn about what exactly to expect during your routine visit and why freshening up your smile in time for summer will make you feel great!
What Happens During Your Checkup and Cleaning?
Finding a dentist that you're comfortable with will make your checkup and cleaning a care-free breeze. After you've done that, schedule your appointment with them. When you first visit a new dentist, they'll most likely ask about your full health history and if any oral problems run in your family. They're just making sure that nothing falls through the cracks and you're being treated according to what you're at risk for. There are two steps to your regular appointment:
The Examination: During this time, your dentist will inspect your mouth, teeth, and gums in search of any signs of cavities, decay, or oral diseases. This is especially important because illnesses such as gum disease and cancer are more common than you may think. By examining your mouth for any out-of-the-ordinary symptoms, they're looking to diagnose and treat the issue as soon as possible. Spotting these diseases early is usually the key to successful treatment and to minimize the impact they have on your mouth.
The Cleaning: Your dentist or hygienist will complete your appointment with a thorough cleaning. This is important because they use special tools to remove any excess plaque and tartar from your gumline. This helps prevent tooth decay, cavities, and gum disease. If you struggle with bad breath, a regular cleaning with your dental professional can help keep your mouth fresh. They'll finish off by polishing your teeth with a gritty prophylaxis paste and flossing.
How Long Should You Wait Between Visits?
If you brush twice each day and floss, it will shorten the length of your cleaning because your hygienist will have to clear less plaque and tartar. By keeping your gums and teeth in good shape, you most likely won't need to return to your dentist for 3 to 6 months. If you have an issue like a cavity or gum disease, you should make a follow-up appointment for treatment. Remember to ask your dentist any questions you may have before you leave, too!
Enjoy a freshened-up smile for summer by calling up your dentist for a checkup and cleaning. That way you can enjoy the great weather and beaches without wondering about the status of your health or dealing with bad breath. The best way to start your summer is with your dentist!
About the Practice
At Legacy Trails Dental, we offer the services of 3 highly trained dentists. You can enjoy an individualized treatment from specialists who have trained for years to care for your particular dental needs. Whether you're coming in for a regular checkup and cleaning or Invisalign treatment, you're sure to feel comfortable with us! For any questions or to schedule an appointment, visit our website or contact 214-227-1000.