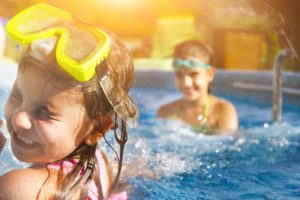 Summertime is notoriously known for dental emergencies. With all the spare time and warm weather, children and adults alike want to enjoy the outdoors more, which can lead to chipped, cracked, and damaged teeth. You can help your family get the most out of your frequent visits to the community pool and planned road trips by avoiding a visit to an emergency dentist in Plano. Read on for 4 tips to reduce your risk of dental dilemmas.
Enforce Pool Rules
Every day, your little ones beg to visit the community pool to have some fun in the sun and play with their neighborhood friends. Unfortunately, this is the scene where a lot of dental emergencies take place. When your children are swimming, they may accidentally impact the stone ledge of the pool, slip on the pool deck, or dive into too shallow of water. All of these incidents can result in knocked-out, chipped, and cracked teeth.
To avoid accidents at the swimming pool, be sure to establish a list of rules for your family to follow to keep them save. It can be more helpful than you may think. If any accidents do occur, be sure to contact your emergency dentist as soon as possible and remain calm.
Put Together an Emergency Kit
Having a dental emergency kit that holds everything you may need in case of an accident can help reduce the stress of a situation and allow you to react quickly to prevent further damage. Being prepared is the best way to avoid serious harm to you or your little one's oral health. Here are some items to include in your kit:
Cold compress to help reduce swelling.
Salt to combine with water and rinse out mouth for any cheek, gum, or tongue injuries.
Vinyl gloves to safely handle any incidents without transferring bacteria to the mouth.
Dental floss to help dislodge food that could be causing toothaches.
Dental wax to help ease any discomfort from braces rubbing against oral tissues.
A card with your Plano dentist's contact information on it.
Be sure to arrange the items neatly in an airtight container and place it in your beach bag or a handy place that allows you to get to it quickly.
Pack Healthy Snacks
On summer road trips, it can be easy to pack accessible snacks that are pre-packaged. Unfortunately, these also are heavy in carbohydrates and sugars, which are known to cause cavities and dental decay. Instead, try packing fresh fruits, vegetables, and water to ensure the best for your family's oral and overall wellbeing.
Maintain A Summer Oral Hygiene Routine
Summer can be hectic because everyone's schedules have changed and there's significantly less day-to-day structure. As a result, your little one's oral hygiene routine can be easily forgotten about or pushed to the side. This can leave their small smiles vulnerable to harmful oral bacteria and common oral health problems. The best way to combat this is to monitor them brushing and flossing each morning and evening.
This summer, your family's oral health doesn't have to interrupt all the fun you have planned. By following these helpful tips from your dentist in Plano, you can get the most out of the season and enjoy basking in the sun without having to worry about lurking dental emergencies.
About the Practice
At Legacy Trails Dental, we offer the professional care and expertise of three highly-trained dentists. You and your family can enjoy individualized, quality care from a team that offers collective decades of experience. Our professionals understand that the unexpected can be stressful to handle, which is why they offer flexible office hours in case you find yourself with a dental dilemma on your hands. For questions or to schedule an appointment, visit our website or contact 214-227-1000.