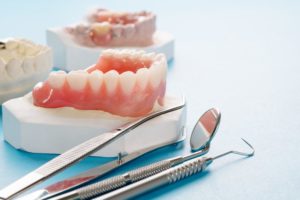 Your dentures in Plano are custom-fitted replacement teeth that don't have the ability to change like your mouth does. That's why you'll need to have them replaced every five to 10 years based on your dentist's recommendation. They're vital to your day-to-day functioning, and when properly cared for, they can even improve your oral health. So, why would you need your restorations adjusted or replaced? Here are five signs that could indicate it's time to see your dentist to discuss your dentures.
Shifting and Slipping in Your Mouth
After some years of use, you may notice that your dentures slip or shift in your mouth when you speak or eat because they're loose. This drastically impacts your day-to-day function and may create embarrassing or uncomfortable moments, especially if this happens in the presence of company. Over time, missing teeth can cause jawbone erosion because it's no longer being stimulated by the root of your tooth. This causes your facial structure to change, resulting in a loose fit.
A Tight Fit
If you don't wear your dentures regularly, the impression that was initially custom molded to create them won't be the same because your mouth will begin to change. This happens due to existing teeth shifting or bone changing. So, if you put your dentures in and they're uncomfortable, tight, or even painful, it's time to visit your dentist in Plano to have them refitted.
Broken or Damaged
Your restoration is made from a variety of materials like metal, acrylic, porcelain, and plastic. Over time, accidents may happen, causing your replacement teeth or the base of your denture to break or become damaged. When this occurs, it's incredibly important to have them repaired or replaced. When there are cracks and fissures in your restoration, it can become a good hideout for harmful bacteria, and they can become especially difficult to clean.
Stained or Dirty-Looking
If you notice that despite proper cleaning, your dentures appear stained or dirty, they may need to be brought to your dentist to be professionally polished. Or, it could be time to throw in the towel and replace them after years of use. Depending on why they're dirty-looking, replacement may be the more appropriate option.
You Lose Additional Teeth
Whether you have full or partial dentures, they'll be specially crafted to fit comfortably in your mouth as it looks when the impressions are taken. However, tooth loss is an inevitable occurrence, and you may find that you've lost additional teeth since your restoration was made. If this is the case, you'll need to have a new prosthetic crafted to fill in the extra gap in your smile.
Sometimes, dentures aren't the best restorative option for everybody. If you don't think they fit your active lifestyle, try asking your dentist about dental implants in Plano. These are the closest option to your natural teeth, they're easy to care for, and they offer a slew of additional benefits that traditional restorations aren't able to.
About the Practice
At Legacy Trails Dental, we have three highly experienced and passionate dentists on our team. We want each of our patients to have the one-on-one attention they deserve so they can get their unique needs met. We offer several types of implant-retained restorations so that our patients can get the replacement teeth that are best for them. For questions or to schedule a consultation, visit our website or call 214-227-1000.