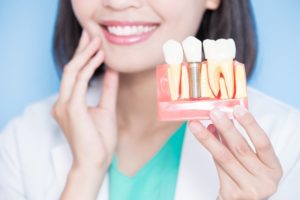 If you're missing one or more teeth, odds are you're considering or at least have heard of dental implants. In case you haven't heard about them, dental implants are titanium posts that are surgically inserted below the gumline and directly into the jawbone to replace the root of a tooth that has been lost. When it comes to tooth replacement methods, dental implants are truly in a class of their own. That's thanks in part to modern technological advancements. Let's take a closer look at a couple of dental technologies that help in the placement of dental implants in Plano.
Digital X-Rays
Digital X-rays help your dentist in Plano place your implants in 3 major ways:
Pathology like cysts and tumors can be identified early on before symptoms even present themselves. It's important to get problems like those treated before dental implant surgery to decrease the risk of implant failure.
Your dentist can identify the structures surrounding the place where your implant will go, like adjacent roots and nerves. This will prevent complications, like nerve damage, during the surgery.
Before surgery, your dentist has to know whether you have enough healthy bone in your jaw and if a bone graft is needed to reduce the risk of implant failure.
In addition, digital x-rays are faster than traditional ones. They can be downloaded and viewed onto a computer instantly. You don't have to wait until they are sent back from a photo lab. In addition, digital x-rays are safer because they expose you to even less radiation.
3-D Code Beam Imaging
This technology allows your dentist to create a three-dimensional rendering of your entire oral cavity, including soft tissues and nerves. Your dentist can now see how your mouth functions as a whole and is more easily able to diagnose problems. Because of this, the placement of dental implants can become more accurate. The dentist can figure out exactly how and where to place them so as not to disturb any surrounding structures in your mouth like your nerves.
Dental implants are a truly great invention when it comes to restoring missing teeth. If you have a gap in your smile, ask your local dentist if dental implants are right for you.
About the Practice
Our philosophy at Legacy Trails Dental in Plano, TX, is not to take care of teeth, but to take care of people. We believe that by placing dental implants, we're restoring your mental health as well as your physical health by giving you a smile that you can be proud of. Each of our three dentists are compassionate and caring during every step of the implant process. If you want to get started on bridging the gaps in your smile, contact us via our website or by calling (214) 227-1000.