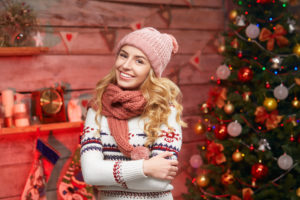 The holidays are fast approaching, which means you will soon be snapping plenty of photos with family and friends! If you have stained, chipped or gapped teeth, you may dread getting in front of the camera. However, porcelain veneers from a cosmetic dentist in Plano can help transform your smile! If having a beautiful white smile is important to you but you do not know if porcelain veneers are the right treatment option, look no further. Here is everything you need to know about porcelain veneers, including how they can brighten your smile in time for the holidays!
What are Porcelain Veneers?
Porcelain veneers are a simple yet popular cosmetic procedure that can dramatically improve the aesthetic appearance of a person's smile. The procedure involves bonding thin, porcelain sheaths to the front of teeth to conceal and correct a wide range of dental imperfections, such as:
Chipped or broken teeth
Worn down or undersized teeth
Stained teeth
Gapped teeth
Misaligned, misshapen or uneven teeth
Slightly crooked teeth
How Are Veneers Placed?
Porcelain veneer treatment typically requires just two easy trips to a cosmetic dentist in Plano, including the initial consultation and placement procedure.
During your first visit, a dentist will remove a very small layer of enamel – usually less than a millimeter – from the top of your teeth. This will ensure that your porcelain veneers fit comfortably and naturally in your mouth.
Impressions of your teeth will then be made and sent to a high-quality dental lab, where your custom veneers will be crafted to exact color, shape and size specifications. Temporary veneers will be provided in the meantime to protect your teeth.
Once your porcelain veneers are ready, you will return to your dentist for the final placement procedure. The temporary veneers are first removed and your teeth polished. Next, your dentist will bond the veneers to your teeth using a bonding cement and a special curing light. It is that easy!
Can Veneers Be Whitened?
Porcelain veneers cannot undergo whitening treatment – but the good news is that they do not need to! New veneers are already a natural-looking shade of white from the get-go and can be used to brighten your smile. Turning your smile several shades whiter is just one of the many benefits of porcelain veneer treatment. Other benefits include:
No discoloration – Porcelain veneers are more stain-resistant compared to natural enamel.
Zero recovery time – After veneers are placed, you can immediately continue on with your normal daily routine with your new, improved smile.
Long-lasting solution – With proper care, you can expect your porcelain veneers to last from 15 to 20 years
Be the belle of the ball this holiday season with a new, beautiful smile thanks to porcelain veneers. Talk to a dentist in Plano today to get started!
About the Practice
The expert team at Legacy Trails Dental delivers quality oral care at affordable prices for Plano residents. They offer a full suite of cosmetic dentistry treatments, including direct bonding, professional teeth whitening and porcelain veneers. Patients interested in rejuvenating their smile can learn more by visiting the Legacy Trails Dental website or calling 214-227-1000.