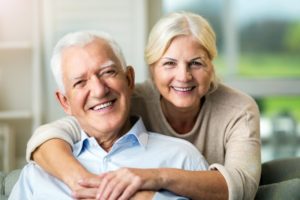 Have you looked in the mirror recently and realized that your teeth don't look like they did years ago? It's true — even when your permanent teeth come in your smile continues to change. After years of talking, eating, and daily life, everyone's teeth eventually discolor, weaken, and shift out of place. These changes may be normal, but you don't have to live with them if they make you feel embarrassed about your smile. Here's what to expect as your teeth change with age, and how your cosmetic dentist in Plano can help you improve your smile and your confidence!
Gray Teeth
As you get older, you may notice that your smile seems darker. When the white shell of enamel around your teeth wears down, it becomes easier to see through and reveals the grayish layer of dentin underneath. While there are plenty of over the counter teeth whitening products, the fastest, safest, and most impressive results can only be achieved with the help of your dentist. In just one appointment, a professional teeth whitening treatment can dramatically brighten your smile.
Chips and Cracks
Your enamel is also responsible for protecting and strengthening your teeth. As it erodes, they become weaker and more susceptible to breaking with normal use. If your teeth become chipped or cracked, a Hollywood-favorite cosmetic service called porcelain veneers can help. These thin, durable, and tooth-shaped shells are fixed to the front of your teeth to cover up any cosmetic imperfections. You can say goodbye to cracks and chips and hello to a movie star smile!
Shifted Teeth
Alongside your teeth, the muscles, tissues, and bones that hold them in place weaken as well, which often causes them to become crooked and overcrowded. Invisalign is the perfect option for adults who want straighter teeth without metal wires and brackets interfering with their lifestyle. These alignment trays are comfortable and removable, invisibly straightening your teeth as you go about your day.
Tooth Decay
The nerves in your teeth shrink with age, causing your teeth to become less sensitive. This means that cavities can form much easier without you even realizing they're there. Thankfully, you don't have to fill in your tooth decay with metal fillings anymore. Tooth-colored fillings offer a lifelike alternative that will seamlessly blend in with the rest of your teeth.
Greet the coming years with a beautiful, confident smile! With these cosmetic services, your Plano dentist can help you keep your teeth happy, healthy, and flawless as they change over time.
About the Author
Dr. Afshin Azmoodeh has been providing preventive, restorative, and cosmetic dentistry to the Plano area for nearly 20 years. He is an active member of the American Dental Association and has been nominated as one of "America's Best Dentists" in both 2015 and 2016. He is passionate about improving appearance, confidence, and quality of life with the power of a beautiful smile. If you'd like to know more, he can be contacted via his website or at (214) 227-1000.