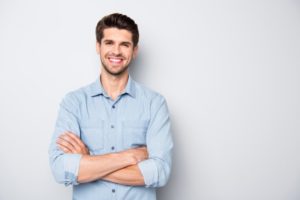 Ready to make 2020 the year of self-care? Want to make some changes that will lead to a happy, healthier you? Instead of running to the gym to start lifting weights, why not start by improving your smile? Since it is the first thing people notice about you, it's important that your teeth and gums look and feel beautiful. So how do you accomplish this? Let a cosmetic dentist in Plano explain why cosmetic dentistry might just be the right solution to kick off the new year.
What Types of Cosmetic Dentistry are Available?
It's not too difficult to find out what kinds of cosmetic dentistry solutions are out there. It is likely that your dentist in Plano offers a wide array, many of which can address some of the problem areas of your smile. If you're unsure which treatment to pursue, don't worry. You'll need to schedule a consultation with your dentist to determine your goals and what you'd like fixed. At that point, you will discover which treatment options are right for you. Some of these may include:
Invisalign® Clear Braces
Porcelain Veneers
Teeth Whitening
Metal-Free Dental Restorations
Direct Cosmetic Bonding
Cosmetic Gum Recontouring
Once you make a decision on how to treat your smile, get ready to see dramatic results in less time.
Why Change Your Smile at the Start of the Year?
If you're wondering why the start of the new year is the best time to make changes to your smile, this can usually be answered in two words: fresh start. With the arrival of 2020, you may be thinking about making some serious changes in your life. From starting a new job to moving to another city, to reconnecting with an old flame or even ditching the pounds you gained over the last 5 years, everyone has a reason to start fresh at the beginning of the year.
No matter the reason, your smile will be with you every step of the way. Making sure it is healthy, happy, and beautiful will serve to help you as you prepare to make additional adjustments in your life.
Besides, if 2020 is to be the year of self-care, having an aesthetically pleasing smile is the ultimate way to kickstart your journey to a better, healthier you.
About the Practice
At Legacy Trails Dental, we pride ourselves on taking care of people, not just teeth. Our cosmetic dentistry services make it possible to take your smile from drab to fab in no time at all. Covering imperfections big or small is no problem for our team, as we are equipped and trained to give you the smile of your dreams. Don't go another year unhappy with your smile. Let us use safe and effective cosmetic treatments to enhance, improve, and transform your teeth and gums into a beautiful work of art. To find out how we can help you, visit our website or call (214) 227-1000.