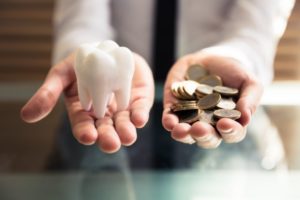 It's tax season again! Have you decided how you plan to spend your tax refund? You could use it to make a big purchase or take a vacation, or you could invest in something you'll appreciate for years to come: your smile! Now is the perfect time to change whatever you don't like about your teeth and finally get the smile you've always wanted. Any of these cosmetic services from your Plano dentist can quickly and affordably give you a set of pearly whites you'll be excited to show off.
Teeth Whitening
Have you looked in the mirror recently to find that your smile doesn't shine as bright as it used to? Unfortunately, a variety of factors cause tooth discoloration or stains, like certain drinks, bad oral hygiene, time, and even certain medications. While there are many over-the-counter whitening products available, none of them are as safe, efficient, or effective as a professional teeth whitening treatment from your dentist. Your dentist is specially trained to use a powerful whitening agent to get the best results without the gum irritation or tooth sensitivity that sometimes comes with store bought products. In as little as one quick and comfortable appointment, you can have a dramatically brighter smile!
Metal-Free Restorations
It's important that your teeth are just as healthy as they are beautiful. Thankfully, shiny metal fillings, crowns, and dental implants aren't your only option anymore! If your tooth needs to be repaired, your Plano cosmetic dentist can use durable, lifelike dental ceramic or porcelain to restore it. Tooth-colored ceramic can be used to fill in cavities and support the weakened tooth while blending in seamlessly with the rest of your smile. If your tooth is damaged, worn down, or even missing, dental crowns and implants made of porcelain can rebuild your smile without sacrificing its appearance. These restorations are designed to be indistinguishable from natural teeth so you can keep your smile looking and feeling its best.
Porcelain Veneers
If you wish you could completely redesign your smile without a long or complicated dental procedure, porcelain veneers may be the solution you're looking for. These ultra-thin shells of dental porcelain are custom-made to completely transform the size, shape, and color of any teeth they're attached to. They can mask cracked, chipped, stained, crooked, or misshaped teeth with the appearance of a stunning smile. It only takes two quick appointments to prepare your teeth, create the porcelain veneers, and permanently attach them, so you can start showing off your new smile right away.
Investing in your smile is a decision you can enjoy in your daily life for decades to come. See your Plano cosmetic dentist to create a personalized treatment plan and achieve the smile you've always wanted.
About the Author
While your oral health is always our number one priority at Legacy Trails Dental in Plano, TX, we want your smile to look as good as it feels. Our highly experienced team of dentists stays current with the latest dental advancements with continuing education and has decades of experience in creating beautiful, healthy smiles that inspire confidence. They'd be thrilled to help you get a smile you're proud to show off, so feel free to contact them via their website or at (214) 227-1000.