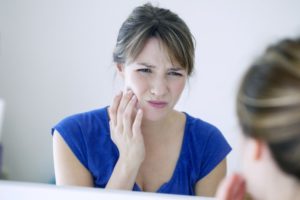 You're watching the latest news about the COVID-19 pandemic. With all the stress that the outbreak has caused you, you've decided to treat yourself to some delicious popcorn. Everything is going fine until you accidentally bite down too hard on a kernel and chip your tooth. Should you call your emergency dentist in Plano? Or would it be more beneficial to go to your local emergency room? Here's why, in the case of a dental emergency like this one, you're much better off seeing your dentist.
Why Should You Go to Your Dentist Instead of the ER?
There are several reasons why you should contact your dentist instead of an ER doctor, such as:
Emergency rooms are more populated with people with a variety of health conditions, even more so than your dentist's office. As a result, you're more like to catch various germs at the ER, including the coronavirus.
Hospitals and emergency rooms are quickly on their way to becoming overloaded with COVID-19 cases. They may not have enough staff or equipment to deal with your dental issue.
Most dentists are actually still open for treating emergency patients, even during a pandemic.
Many of the doctors at the ER don't possess the specialized training required to handle specific dental emergencies. At most, they might be able to prescribe antibiotics or painkillers.
When Should You Go to the Hospital?
In some cases, it's actually more advisable to go to the ER instead of your dentist's office. If you're bleeding profusely even after applying pressure for more than 15 minutes, if you have serious swelling that blocks your airway, or if you have a dislocated or broken jaw, then you need immediate medical attention. These situations are considered life-threatening emergencies and should be treated as such.
What If Your Dentist's Office Is Closed?
If your dentist's office is closed, it's fine to go to the emergency room, but this should only be done as a last resort. Before you go, though, call your dentist and leave a voicemail with details about your condition, including the fact that you're seeking medical attention elsewhere. That way the office can get back to you the instant they reopen.
Even if the ER staff is able to treat your immediate problem by prescribing medication, oftentimes they can't address the root of the problem. For this reason, you should still come into your dentist's office as soon as you possibly can to prevent your dental emergency from returning.
About the Author
Dr. Afshin Azmoodeh is a dentist in Plano, TX who has been serving the dental needs of the community for more than 20 years, ever since graduating from the Texas A&M College of Dentistry. Due to the coronavirus, his practice is closed for all non-emergency patients at the moment. If you find yourself with a sudden dental emergency, you can contact Dr. "A" at (214) 227-1000.