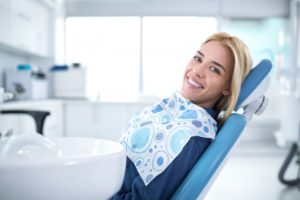 Social distancing plays a key role in limiting the spread of COVID-19. The CDC recommends standing at least 6 feet apart from others when you are in public, regardless of whether or not you are wearing a mask. This guideline should be adhered to whether you're at the grocery store, the office, or your local dental practice. While you may not think that social distancing at the dentist is an achievable feat, many practices have put protocols in place to keep patients safe during the pandemic. Learn 3 ways that your dentist in Plano makes social distancing during your appointment possible.
1.) Changing How You Wait
Dental practices are adapting to the pandemic by changing their waiting areas and waiting procedures. When you come in for your appointment, you'll notice substantially fewer chairs in the waiting area that are all spaced at least six feet apart. Additionally, there will be no magazines or periodicals to ensure that the virus is not spread through shared contact. Some practices are also incorporating mobile check-in so that you can wait in your car for your appointment.
2.) Changing the Flow of the Office
Many practices are changing the flow of patients through the office to maintain safe distances at all times. This includes creating a one-way flow through the treatment area to make sure that people are not passing by each other in close proximity. This new flow, coupled with the high safety standards of the office, helps to protect patients throughout their appointment.
3.) Changing Appointment Protocols
To ensure social distancing in their practices, dental teams are restructuring the way they schedule appointments. They are staggering appointments to keep as few people as possible in the office at any one time. Appointments are also longer to maximize the amount of dentistry that can be done without patients having to schedule multiple appointments. Families are also being accommodated so that up to six family members can be seen at the same time.
Social distancing in the dental office helps to keep you safe throughout your appointment. Safe practices, paired with the protective equipment that your dental team uses, ensure that you can get the care you need without risking your overall health.
About the Author
Dr. Afshin Azmoodeh wants to help his patients maintain excellent oral health during the pandemic. A graduate of the Texas A&M College of Dentistry, he considers himself a lifelong learner and is dedicated to continuing his education to provide patients with the very best dentistry available. From implant dentistry to Chao Pinhole gum surgery, Dr. Azmoodeh provides dynamic treatment options for all dental needs. He was nominated as one of America's Best Dentists in both 2015 and 2016. If you'd like to learn more about how he and the rest of his team at Legacy Trails Dental are keeping patients safe during their appointments, they would love to speak with you. Call the office at (469) 208-6017 or send them an email.