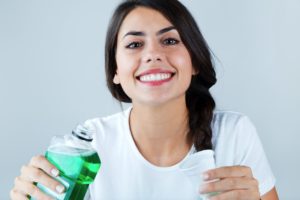 June is oral health month! There is no better time to become aware of your smile and how to keep it clean and healthy. Everyone knows that daily brushing and flossing is essential, but there's more to maintaining strong teeth. Your dentist in Plano shares some tips that you should be considering in order to keep your oral health in check.
Choose a Good Toothbrush
We all know it's important to brush your teeth, but you need to choose a toothbrush that does an effective job. Always look for a brush with a head and bristles small enough to reach the crevices of your molars where food debris can hide. Find a toothbrush that is soft-bristled. They are the most comfortable and safest brushes to use. Medium and hard-bristled brushes can actually damage your gums and tooth enamel.
Clean Your Tongue
Plaque and bacteria don't only build up on your teeth. Your tongue also requires cleaning. In order to avoid bad breath and other oral health problems, clean your tongue when you brush your teeth. You can either use your toothbrush and gently brush your tongue or use a tongue scraper which can likely be bought at your local grocery store or pharmacy. Both of these methods are effective and will leave your mouth cleaner.
Consider Using Mouthwash
Mouthwash helps your mouth in three ways. It reduces the amount of acid in the mouth, cleans hard to reach areas, and remineralizes the teeth. Even though mouthwash does not substitute for brushing and flossing, it can be a great addition to your oral hygiene routine. Ultimately, it can help prevent tooth decay and gingivitis.
Drink More Water
Water is the best thing you can drink. You've probably been told to drink plenty of water on many occasions. Your body cannot function properly if you're dehydrated. That applies to the mouth as well. It fights against dry mouth which can lead to bad breath and a higher risk of tooth decay. Water also helps to rinse away leftover food that has been left behind in your teeth, and it neutralizes acids in your mouth. Many cities add fluoride to their water supply. By drinking water that contains fluoride, you can prevent cavities.
Eat Crunchy Fruits and Vegetables
Processed, prepackaged foods are convenient, but not usually the best option for your teeth. Fresh, crunchy fruits and vegetables can actually help to keep your teeth clean. Because of their high fiber content, they "scrub" your teeth as you're eating them. This includes carrots, celery, cucumber and apples.
Limit Sugary and Acidic Foods
Foods and drinks that are high in sugar and acid content can wear away at your tooth enamel. Eventually, this leads to more cavities. Be mindful of items like acidic fruits, coffee, tea, sodas, and sports drinks.
Oral hygiene is an important part of maintaining your overall health. By maintaining good brushing and flossing habits, regularly visiting your dentist, and following these tips, you can prevent small issues from becoming big ones and keep your smile strong and healthy!
About the Practice
Dr. Afshin Azmoodeh and Dr. Tatyana Romanoff practice at Legacy Trails Dental in Plano, TX. They prioritize taking an individualized approach to give patients a professional and comfortable experience. They treat patients of all ages and provide services like general dentistry, cosmetic dentistry, and renewing restorative dental care. For more information or to schedule an appointment, visit their website or call (214) 227-1000.