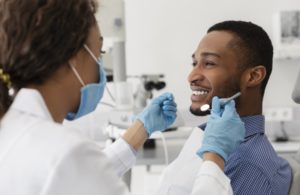 During the past few months, you've been diligently following all of the guidance the World Health Organization (WHO) has recommended in order to keep you and your loved ones safe from COVID-19. Recently, the WHO released a statement suggesting that all routine or non-emergency dental care be delayed due to the pandemic. So, you canceled your next dental checkup. However, the American Dental Association (ADA) has stated that it "respectfully yet strongly disagrees" with the WHO's suggestion. Keep reading to learn why dental care is still important during a pandemic, and the precautions your dentist in Plano is taking to ensure your safety at your appointments.
Why Routine Dental Care Always Matters
Attending a dental checkup and cleaning might not seem that important, especially when a pandemic is raging across the globe. It may seem frivolous to care about your mouth when people are fighting for their lives. However, oral health is inextricably linked to general health.
If you don't see your dentist for a checkup twice a year as the ADA recommends, plaque can build up on your teeth and gums. Plaque is full of dangerous bacteria that can contribute to oral health problems like cavities and gum disease. When your immune system is too busy fighting off these infections in your mouth, it makes it harder to combat infections in other parts of your body. This increases the risk of severe complications if you were to catch COVID-19.
Recent research has linked gum disease in particular to harmful COVID-19 complications. When you have gum disease, bacteria create pockets between your gums and teeth. Through these pockets, they can access the rest of your body via your bloodstream. They often settle in the lungs and cause severe inflammation, which would exacerbate COVID-19 symptoms. Additionally, gum disease has been linked with diabetes and heart disease, both of which increase the risk of serious complications as well.
To prevent all this from happening, it's important to visit your dentist for a cleaning and exam every six months or so.
Is It Safe to Go to the Dentist?
The WHO's statement made it seem like visiting the dentist's office poses a major health risk, but that's not the case. In fact, dental practices are some of the safest and cleanest places you could be, especially during these times. In addition to their usual cleanliness protocols, your dentist and their team are taking several additional precautions to keep patients safe, such as:
Evaluating the health of every team member daily
Spacing out appointments to allow more time for cleaning in between patients
Wearing extra PPE
Installing hand sanitizing stations in the office
Placing fewer chairs in the reception area
These are just a few of the ways your dentist is making sure you stay safe while getting the dental care you need. Rest assured that you won't be at risk while visiting the dentist for a routine appointment. So, go ahead and schedule that next checkup!
About the Practice
At Legacy Trails Dental, we strive to keep the smiles of the Plano, TX community healthy for life. Our dentists, Dr. Afshin Azmoodeh and Dr. Tatyana Romanoff, can reduce your risk of oral health problems and maintain ideal overall health as a result. Their practice has implemented multiple COVID-19 safety protocols, including the ones listed in this post. To learn more about why it's perfectly safe to see the dentist, visit our website or call (214) 227-1000.