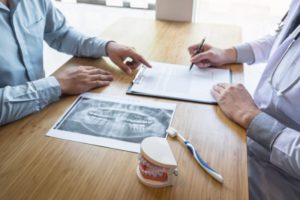 Are you hoping to be able to get dental implants in Plano to replace your missing teeth? Unfortunately, not everybody's a good candidate for this procedure right off the bat. In fact, many people require preparatory treatments, such as bone grafting and sinus lifts before they're eligible to undergo surgery. Read on to learn about a few traits that may not make you a great candidate for dental implants right away.
Untreated Oral Health Problems
If it has been awhile since you've been to your dentist in Plano for a checkup and cleaning and you have some lingering oral health problems, like cavities and gum disease, you'll need to have those treated before you can undergo dental implant placement surgery. It's also important to dedicate yourself to maintaining good oral hygiene after your new smile is complete. Although your restorations can't get cavities, without healthy gums, your implants won't have a strong and stable foundation to secure them. At your initial consultation with your dentist, they may suggest receiving certain treatments, like gum disease therapy, before you can move forward with the process.
Insufficient Jawbone Density
One of the most important factors in a good dental implant candidate is that they have sufficient jawbone density. If you have been missing teeth for awhile or have been using dentures or bridges to fill the gap in your smile, your jawbone may have likely begun to deteriorate. Unfortunately, this is a natural process that occurs when the roots of your teeth are no longer there to stimulate the area. Since your dental implants need to be able to fuse with your jawbone, it's crucial for them to have a strong and dense foundation to anchor them. If not, the osseointegration process could fail.
Bad Oral Habits
Studies have shown that bad oral habits like smoking or chewing tobacco products and teeth grinding can have a substantial impact on your dental implants once they're placed. This is because using tobacco products is associated with decreased blood flow in the mouth, which can slow down the healing process after your implant surgery and prevent them from properly fusing with your jawbone. In addition, the constant pressure and force of unchecked teeth grinding and clenching can be too much for them to bear, causing them to become loose and fail.
Underlying Medical Conditions
Patients who have medical conditions that impact their immune system are also at a higher risk of implant failure. This is especially the case if the condition isn't being properly managed and treated. In any case, it's a good idea to let your dentist know about your medical history during your initial consultation to find out whether it could put you at risk for experiencing complications.
Even if you have one of these four traits that don't necessarily make you a good candidate for dental implants right away, don't worry! There are several preparatory procedures that your dentist can suggest to optimize the health of your mouth and put you on-track to getting the smile of your dreams.
About the Author
Dr. Afshin Azmoodeh has been proudly serving his community of Plano for over 20 years. He enjoys getting to optimize his patients' oral health and provide them with smiles that boost their confidence and improve their overall quality of life. He has completed advanced education in specialized services, including the placement and restoration of dental implants. He was also nominated as one of "America's Best Dentists" in 2015 and 2016. For questions or to schedule a consultation to learn whether you're a good candidate for dental implants, visit Legacy Trails Dental's website or call 214-227-1000.