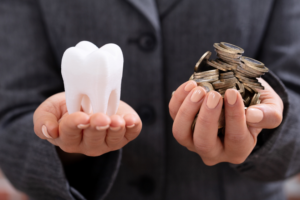 It has been a difficult year for everyone amid the COVID pandemic. If you're like many Americans, you've likely had to pinch pennies over the last several months. As you look for ways to save money, you might consider delaying your second hygiene appointment for the year. You may believe you'll save money, but you could actually throw hundreds of dollars down the drain. Your dental insurance is a monthly investment designed to lower your long-term oral health expenses. Although money is a little tighter, here are 3 reasons to keep your semi-annual visit.
1. Reduce overall dental health costs.
Dental care focuses on prevention to lessen the likeliness of needing a costly treatment down the road. Research shows every $1 spent on preventive dentistry can lower restorative costs by as much as $50. The American Dental Association recommends everyone over the age of 2 visits their dentist at least twice a year for a cleaning and checkup.
Your dental insurance makes it easy and affordable to see your dentist every 6 months. By paying your premium, you have access to 100% preventive coverage. You can get the cleanings and checkups you need for only a small co-payment.
2. Maintain a healthy smile.
Even with the best prevention, an oral health issue can arise. It's best to treat it quickly to stop it from worsening, which might lead to a dental emergency. You might believe you can't afford the treatment, putting it on hold until you have more money. This couldn't be further from the truth. Every policy differs, but most plans cover restorative treatments by 50% to 80% to offset the amount you pay out-of-pocket.
After reaching your deductible, you have access to an annual allowance to rehabilitate your smile. You can quickly treat the issue to save your tooth and prevent an unplanned trip to your dentist.
3. Your dental insurance expires.
Your dental benefits don't last forever. On December 31st, your coverage will expire. You won't be reimbursed for anything you don't use, and nothing will carry over into the new year. You might not think you have benefits left for the year, but less than 3% of Americans exceed their annual limits. As a result, you likely have several remaining.
Don't lose what you've paid into throughout the year. It's best to see your dentist in Plano before New Year's. They will work on your behalf with your insurance company to file the necessary claim forms to lower the amount you need to pay. Your dentist will help you find the solutions you need to cover any remaining balance, like third-party financing.
While you look to reduce your expenses, don't avoid your dentist. Invest in a healthy smile just in time for the new year.
About Dr. Afshin Azmoodeh
If you need to use your dental benefits, don't Google, "where is a dentist near me?" Instead, choose Dr. Azmoodeh for affordable care. He is in-network with many insurance companies, including Delta Dental, Cigna, Aetna, MetLife, and more. Contact our office today to schedule an appointment.