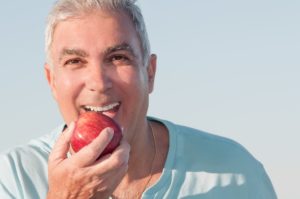 If you've suffered significant tooth loss, dental implants or dentures in Plano are a great solution to replace your missing teeth. Your restorations will complete your smile and allow you to enjoy your favorite foods just in time for the holidays. Unfortunately, if you aren't careful, you might end up in the dental chair. Although your new teeth closely mimic your natural ones, they have their limitations. Here are 4 holiday foods to skip to avoid an unplanned trip to your dentist.
1. Sticky Foods
Whether you have dentures or dental implants, you'll want to avoid any sticky foods, like toffee or caramel. Not only are they bad for your waistline, but also your replacement teeth. They can cling to their surfaces, making them difficult to remove, especially around abutments and implant posts. They also contain a lot of sugar, which can increase your risk of tooth decay if you have any remaining natural teeth.
2. Hard Foods
Your prosthetic teeth allow you to maintain a balanced diet and eat a variety of foods, but you'll want to skip those that are overly hard, like candies or nuts. Biting them causes unnecessary stress on your teeth and palate of your dentures, which can lead to a break or fracture.
3. Tough Meats
Chewy meat can be difficult to break down with traditional dentures. Not to mention, if your denture isn't supported by dental implants, certain meats can dislodge them. Nothing is more embarrassing than slipping teeth during your family meal. You can help prevent the mishap by skipping tough meats. If you can't avoid them, cut them into small pieces to make them easier to chew.
4. Popcorn
The holiday season is the perfect time to snuggle under a warm blanket on the couch to binge-watch your favorite movies, but you'll want to choose another snack as an alternative to popcorn. The unpopped kernels can end up in your mouth, leading to a broken restoration if you unexpectedly bite down on one. The outer layer of the kernel can also get trapped under your denture or around your gum tissue.
Protect Your Smile for the Holidays
Besides choosing your foods wisely over the next few weeks, don't forget to maintain your oral hygiene. Although your teeth aren't natural, they still require daily attention. You'll care for dental implants the same way you would your real teeth; however, if you have dentures, you'll need to soak them every night. In addition, use a soft-bristled toothbrush to clean your dentures and the inside of your mouth.
With a few precautionary steps, you can help ensure nothing interrupts your holiday plans, not even a dental emergency.
About Dr. Tatyana Romanoff
Your dentist in Plano, Dr. Romanoff, graduated from the University of Colorado School of Dental Medicine before continuing her training in laser and implant dentistry. If you're missing teeth, she can rebuild a beautiful, functional smile using dentures or dental implants. Contact our office today to schedule your consultation to replace your lost teeth.