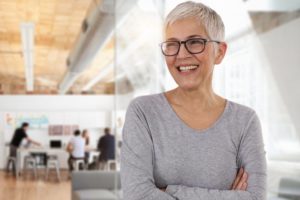 If you've lost several or all of your teeth, you may have tried wearing a traditional denture to bring back your smile. As you may have noticed, though, their high-maintenance cleaning regimen, tendency to slip around uncomfortably, and shorter lifespan make them a bit of an inconvenience. For that reason, many patients have switched to implant dentures in Plano. After all, they solve many of the problems of traditional dentures. Plus, they have a 95% success rate and can last for 30+ years! Keep reading to learn some tips on making a smooth transition from dentures to dental implants.
Why People Love Dental Implants
Some people wonder whether they should bother switching to dental implants in Plano since dentures have been a tried-and-true solution for decades. However, implants deliver benefits that dentures alone cannot, such as:
They are the only restorative solution that prevents bone loss in the jaw.
They restore much more biting force than dentures can.
Dental implant restorations are immune to cavities and highly resistant to discoloration.
You can take care of implant dentures similarly to how you would care for natural teeth.
What You Can Expect When Making the Switch
First, your dentist will have to determine whether you're a good candidate for an implant denture. They'll check to see if you have enough healthy jawbone tissue to support dental implants, your gums are healthy, and you can commit to a good oral hygiene routine. From there, you can discuss whether you'll need any preliminary procedures to prepare your mouth for an implant denture. For example, if you currently wear dentures but you don't have a sturdy enough jawbone, you may need to undergo a bone graft to strengthen the bone and ensure your new teeth have a strong foundation.
5 Tips for a Smooth Transition
Transitioning from dentures to dental implants may sound simple, but keep in mind that it involves a surgical procedure and a fairly lengthy healing process. To make the process as smooth as possible, be sure to:
Maintain a solid oral hygiene routine before, during, and after your procedure.
Quit poor dental health habits (like smoking cigarettes or chewing on ice).
Avoid spicy or hot foods while the implant site is still healing.
Keep up with all of your post-op appointments.
Let your dentist in Plano know if you have any problems during the healing process.
If your dentures don't fit like they should, it may be time to ask your dentist about making the switch to an implant denture. That way, your smile can look and feel much healthier!
About the Practice
At Legacy Trails Dental of Plano, we strive to help patients of all ages in the Plano, TX area achieve optimal oral health for life. We are proud to offer dentures as well as dental implants. Both of our dentists, Dr. Afshin Azmoodeh and Dr. Tatyana Romanoff, have undergone extensive training in dental implant placement and restoration. To find out how you can benefit from an implant denture in Plano, don't hesitate to contact us via their website or at (214) 227-1000.