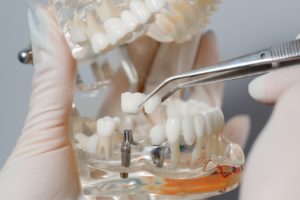 If you've lost a tooth or two over the years, you have more options than ever to fill the space in your smile. As an alternative to traditional treatments, over 500,000 people per year turn to dental implants. They are unique because they recreate the entire tooth structure from the root up. As a result, they offer the most predictable results. There are several factors attributed to dental implant success, but here are the top 4 advancements that have made them the most reliable option to replace missing teeth.
1. Rebuilds the entire tooth structure.
A dental implant is unlike any other treatment because it mimics the entire tooth instead of only recreating the portion above the gum line. A titanium post is surgically placed into the jawbone to serve as a new root. The bone fuses to the post to provide a stable foundation for the custom-made restoration, which is attached using an abutment. The 3 components combined create a nearly perfect replica of your real tooth to offer the most natural results in terms of function and aesthetics.
2. Titanium is biocompatible.
Titanium created the foundation for the success of dental implants because it is biocompatible, allowing the bone to fuse to it better than any other material. In the 1950s, a Swedish physician discovered bone can integrate with titanium through a process called osseointegration. When compared to stainless steel, it is lighter but more durable to withstand the pressure of biting and chewing.
3. Preserve your jawbone's density.
A dental implant is the only tooth replacement treatment to stop bone loss associated with missing teeth. With the post acting like a root, it stimulates the jaw to encourage new bone growth. This preserves your jawbone's density to keep it strong. By doing so, it stops dental drift to safeguard any remaining natural teeth. Overall, a strong jawbone promotes better oral health to lower your long-term dental expenses.
4. Advanced technologies.
From start to finish, advanced technologies have paved the road to success for dental implants. Even during the consultation process, state-of-the-art equipment is used to ensure a patient is a candidate for the procedure, like a CT cone beam scanner. During the planning and placement stage, computer-guided technology pinpoints the precise location to insert a post into the jawbone to remove any room for error. The use of technology doesn't end there as digital impressions and other innovations create high-quality restorations that look and function like real teeth.
Choose a Proven Solution
Dental implants in Plano are supported by decades of success. If you're ready to replace your missing teeth, choose a solution that's proven to last for decades to benefit from a long-term investment.
About Dr. Tatyana Romanoff
Dr. Romanoff earned her dental degree from the University of Colorado School of Dental Medicine. She continued her training to focus on laser and implant dentistry. She has the experience and qualifications you can trust to treat tooth loss. Contact our office today to schedule your consultation for dental implants.