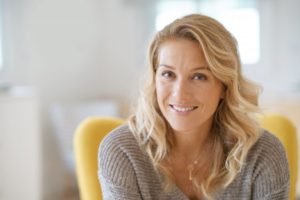 Are you one of the over 120 million Americans who are missing teeth? If so, you've probably grown used to hiding your smile in public due to self-consciousness. What you may not realize is that this can negatively impact your self-esteem. While there are many replacement options, dental implants offer a unique set of benefits that improve your mental health. Read on to learn how this amazing solution can dramatically boost your confidence.
First, What Exactly Are Dental Implants?
Dental implants are a one-of-a-kind treatment because they restore the tooth from the roots up. A dental implant is an artificial tooth root that is surgically placed in the jawbone to support a restoration. Dental implants can be used for a single missing tooth, multiple missing teeth, or even the replacement for an entire smile. Unlike traditional bridges and dentures that only restore the visible portion of the smile, dental implants mimic the natural tooth structure, including the roots, providing the most lifelike and stable tooth replacement.
How Can Dental Implants Improve Confidence?
Dental implants are nothing short of life changing. They can increase your confidence with the following benefits:
Stability
Options like dentures can cause just as much self-consciousness as missing teeth because they tend to shift or slide around when eating, speaking, or smiling. However, dental implants are rooted in the jawbone, making them the most sturdy and strong restoration. Because they are fused to the jawbone, they allow you to speak, smile, and chew all your favorite foods with complete confidence.
Appearance
No matter how many teeth you're missing, implant restorations are designed to match the appearance of your natural smile. Better yet, you can choose the size, shape, and shade of your replacements for the look of your dreams. You won't need to hide your smile any longer – you can flash your pearly whites in any social or professional setting. Plus, implants allow your restorations to mimic the way your natural teeth emerge from your gums for the most lifelike appearance.
Longevity
Dental implants allow you to feel completely confident in your new smile. With a success rate of 95% even after 10 years, they're incredibly predictable. Additionally, they can last for over 30 years with proper care like brushing and flossing.
Health
Unlike other options, dental implants stimulate the jawbone to prevent it from deteriorating. This not only keeps your jaw strong, but it also helps to prevent future tooth loss, and it allows you to maintain a fuller facial appearance. This contributes to a more beautiful, youthful look while boosting your confidence in the process.
Are you ready to improve your smile and your self-esteem? Kill two birds with one stone by choosing dental implants!
Meet the Dentists
Dr. Afshin Azmoodeh and Dr. Tatyana Romanoff are a team of dentists who combine their training and experience to provide amazing results. They have extensive education that allows them to place and restore dental implants at the same convenient location. For any questions, they can be reached through their website or by phone at (214) 227-1000.