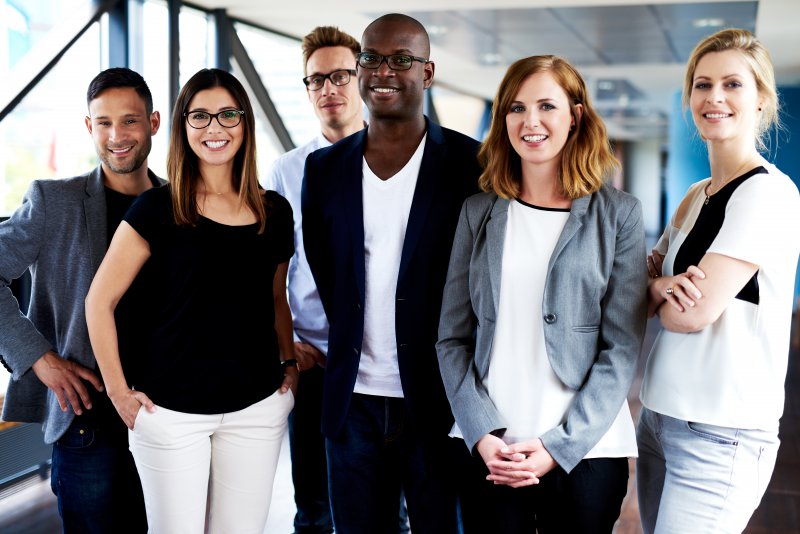 When you're working a full-time job, it can feel like there's no time available for your smile. Even when your smile and oral health could benefit from orthodontic treatment, you may find the process less appealing if you have to change your appearance along the way. Thankfully, Invisalign in Plano offers a proven alternative thanks to its transparent qualities! Chances are if you are working in any of the following careers, Invisalign can fit into your professional lifestyle.
Sales and Marketing
Whether you're giving a presentation to a group of your colleagues or you're speaking with customers and clients directly, having a smile you feel comfortable showing off can make all the difference. If there's one thing people tend to notice when they are listening to someone, it's their smile. Sales and marketing requires persuasion, and when you're not constantly worried about hiding your teeth (or metal braces), you can express yourself to the fullest and illicit the emotional response you're looking for. In short, beautiful smiles sell!
Public Speakers and Performers
When speaking to an audience, whether as a motivational speaker or as a singer, comedian, dancer, or other performer, it's important that the audience is never distracted. To truly capture their attention, your smile should feel seamless, not forcefully hidden. Instead of hiding your smile due to imperfections or the "metal mouth" that comes with braces, you can complete orthodontic treatment and ensure you look exactly how you want to portray yourself on stage!
Entrepreneurs
Making a name for yourself in the business world is a serious undertaking, which means you'll need to not only feel confident about your ideas, but look confident as well. It doesn't matter if you're looking for someone to invest or customers to try your product or service out, having a winning smile helps you look more credible and competent. Hiding your smile can make that process more difficult, whether you have imperfect teeth or braces. Invisalign gives you the ability to look and feel your best, all while achieving a straighter smile.
Teachers
There are likely enough students in your class completing orthodontic care themselves, so having braces at the same time can make that process a little awkward as a teacher yourself. After all, you're the adult in the room, and wearing braces can make you look much younger than you actually are. Invisalign helps you maintain your professional appearance in the classroom and address everything from gaps to rotated teeth to misaligned bites along the way!
It's true that people of all backgrounds can benefit from Invisalign, but those who rely on their smile's appearance and overall demeaner have the most to gain thanks to its transparent and removable attributes. Get in touch with a dentist in Plano today to see if treatment is right for you!
About Legacy Trails Dental
Dr. Azmoodeh and Dr. Romanoff have helped numerous patients achieve a straighter smile with the help of Invisalign, including working professionals who heavily rely on their appearance day-to-day. They'll create a highly personalized treatment plan that addresses your mild to moderate smile imperfections directly and corrects them in less time overall compared to traditional solutions like braces! To schedule an appointment, you can contact them through their website.