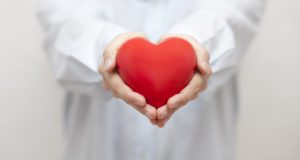 Did you know heart disease is the leading cause of death in the United States? According to the Centers for Disease Control and Prevention (CDC), 1 person dies every 36 seconds in the U.S. from heart disease. February is American Heart Month, which is dedicated to raising awareness about preventing cardiovascular disease. You might know a healthy lifestyle can lower your risk, but there's another factor that's equally important. Believe it or not, a healthy heart begins with your smile. In honor of Heart Health Month, here's what you need to know to keep your mouth and heart healthy.
Oral and Cardiovascular Health are Connected
Tooth decay isn't the only threat to your smile. Gum disease is the most common cause of tooth loss. Although it's preventable, the CDC reports at least 50% of adults to have the infection. It's caused by poor oral hygiene habits that result in plaque and tartar buildup, which contain harmful oral bacteria that can irritate and inflame the gum tissue. Gingivitis, the early stage of the infection, can be reversed without having any long-term complications; however, without any treatment, it can progress to periodontitis.
Once the infection has reached advanced stages, it can cause irreversible damage to your smile, like tooth loss, but the concerns don't end there. The infection can enter your bloodstream. As it circulates throughout your body, it will affect your heart's health. People with gum disease are up to 3 times as likely to have a heart attack, stroke, or another major cardiovascular event. Not to mention, the infection is also linked to various other health conditions, including some cancers, Alzheimer's disease, and diabetic complications.
Oral Hygiene Supports Heart Health
Besides watching what you eat and kicking any bad habits, like smoking, you can safeguard your heart by committing to your oral hygiene. You can avoid plaque buildup to keep your gums and heart healthy by:
Brush Twice Daily: Use a soft-bristled toothbrush and fluoride toothpaste to brush your teeth for 2 minutes in the morning and night.
Floss Nightly: Flossing removes anything left behind by your toothbrush. Use high-quality dental floss to clean between each tooth and around the gum line daily.
Visit Your Dentist: The American Dental Association recommends visiting your dentist in Plano at least twice a year for a cleaning and checkup.
Even with the best oral hygiene habits, gingivitis can occur. Don't ignore the early symptoms of the infection. Contact your dentist at the first sign of redness, inflammation, or bleeding of the gums. They will create a personalized gum disease treatment plan for a healthy mouth and heart.
About Dr. Afshin Azmoodeh
Dr. Azmoodeh earned his dental degree at the Texas A&M College of Dentistry before continuing his training in advanced specialties, like the Chao Pinhole gum surgery. Nominated as one of "America's Best Dentists" in 2015 and 2016, he has the qualifications and reputation you can trust. Contact our office today to schedule your consultation for gum disease therapy.