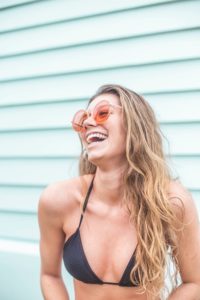 A beautiful smile is priceless; however, not everyone is in love with their teeth. If you're embarrassed by stains, chips, or other imperfections, summer is the perfect time to invest in the gift of confidence. Don't worry, you won't have to spend all summer sitting in a dental chair. Here are 4 procedures your cosmetic dentist in Plano can use to transform your smile. 
1. Cosmetic Dental Bonding
Cosmetic dental bonding is an affordable, convenient method of treating minor aesthetic concerns, like decay, chips, cracks, or exposed tooth roots. The resin material is shaded to the color of your enamel, so only a trained dental professional will know it isn't part of your natural tooth structure. You can have the smile of your dreams after just 1 appointment, depending on how many teeth you're improving. An afternoon at the dentist can give you an attractive smile that can last for 5 to 10 years before needing replacing.
2. Teeth Whitening
Everyone's teeth change color over the years. Unfortunately, brown or yellow teeth are often viewed negatively. You don't have to hide your smile when taking pictures or chatting with a friend. Your dentist will create a personalized plan to combat stains and discoloration. Whether an in-office or at-home method, your teeth can become up to 8 shades whiter. You'll look younger, successful, and confident to feel your best as you soak up the sunshine.
3. Porcelain Veneers
If you are ready to give your smile a makeover, veneers might be an option for you. The thin shells are bonded over the front surfaces of the teeth visible when smiling. This allows them to cover several flaws using a single treatment, like discoloration, chips, or gaps between teeth. In as few as 2 appointments, you can have a picture-perfect smile that can last for a decade or longer with the right aftercare, like brushing and flossing.
4. Invisalign
You are never too old to benefit from a straight smile. You don't have to worry about the appearance of brackets or wires when choosing Invisalign. Clear aligners are worn over your teeth to correct bite and alignment problems. You'll enjoy a virtually undetectable orthodontic system to enhance your dental health and self-esteem using the FDA-approved solution.
Which Procedure is Right for Me?
Cosmetic dentistry is a big decision, but you won't have to make it on your own. After examining your mouth and learning more about your goals, your dentist in Plano will recommend the best procedure. They'll help you choose the right choice to give your confidence the boost it needs to make the most of your summer plans.
About Dr. Young MoonDr. Moon earned his dental degree at the Western University of Health Sciences and has completed advanced training for dental implants and cosmetic dentistry. He combines his qualifications with the latest innovations in dentistry to help each patient achieve their best smile. If you're ready to improve your smile for summer, contact our office today to request your consultation.