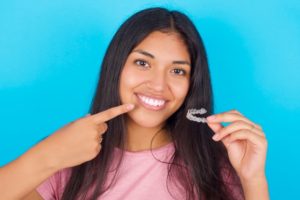 Did you know that clear aligners have been around for 25 years? Invisalign was successfully invented in 1997, and since then clear aligners have made major advancements. As with any product, with popularity, other brands with their own spin on the product will come to light.
Although Invisalign was the first one, it is far from the only option available now. But what makes another brand like SureSmile aligners different from Invisalign? What do they have in common? How can you know which option is the best for your smile? Get the answers to your questions here!
Similarities Between SureSmile and Invisalign Aligners
The most obvious common trait between SureSmile and Invisalign is that they are both made of clear dental plastic and are barely noticeable when worn. This subtle, non-invasive look is extremely appealing, particularly for adults who do not wish to get metal braces.
With both Invisalign and SureSmile, the aligners are removeable and should be taken out for eating, drinking anything other than water, and normal, daily oral hygiene. This flexibility with these systems doesn't limit your diet like traditional braces; clear aligners enable you to continue enjoying your favorite foods as you please. Otherwise, you should wear the aligners for at least 20 hours per day.
Compared to traditional braces, both SureSmile and Invisalign are remarkably fast. In fact, they cut treatment time in half!
Differences Between SureSmile and Invisalign Aligners
To the untrained layperson, these two systems can seem identical, but they have some unique characteristics that shouldn't be overlooked. For instance, SureSmile uses a slightly different plastic material, which has been reported to be a little more comfortable. Although Invisalign can be used for most cases, SureSmile can straighten smiles that have severe or difficult alignment issues, such as large gaps, bite problems, and more. SureSmile patented software and digital photography also ensures that your treatment complements your facial shape and is as efficient as possible.
Which Is Right for You?
If you're unsure about the treatment you'd like to have to straighten your teeth, it's perfectly understandable—they are both great choices! Your dentist can provide more details about each type of aligner and help you decide on the one for you. Regardless of the option you go with, you can quickly shift your teeth into ideal alignment without messing with your appearance, lifestyle, and confidence.
Ultimately, clear aligners have been around long enough to prove their effectiveness. You don't have to put off straightening your smile any longer! When you meet with your dentist, you can determine whether you should choose Invisalign or SureSmile—either way, you're sure to get a beautiful, healthy, straight smile with clear aligners that work like magic!
About the Practice
At Legacy Trails Dental of Plano, both Dr. Afshin Azmoodeh, or Dr. A, and Dr. Tatyana Romanoff are thrilled to offer both SureSmile and Invisalign aligners to patients who are interested in orthodontic treatment. Together, we have a collective 30 years of clinical experience and strive to make every appointment as productive and pleasant as possible. If you would like to learn more about SureSmile or Invisalign, you may contact our office online or call us at 214-227-1000.