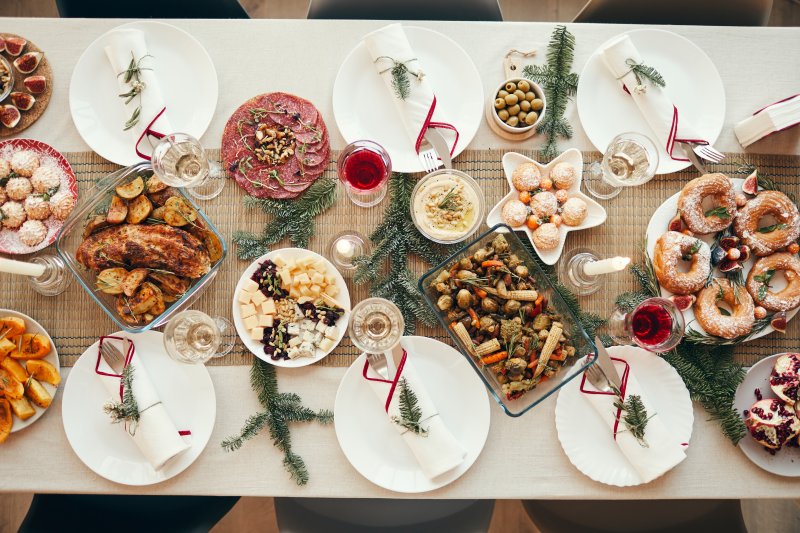 Now that it's December, it looks like the holiday season is finally here again. People are starting to shop for presents, plan end-of-year parties, and spend more time with their families. As such, you should be careful of the current holiday foods on offer. There's a good chance they'll hurt your teeth and gums otherwise. As for how to keep your smile safe, your Plano dentist has some pointers. Here are four dental tips for enjoying seasonal treats without harming your oral health.
Put a Limit on Sugary Sweets
While it might be hard, try to limit your intake of Christmas or holiday-themed sweets. Though they taste great, they tend to have lots of tooth-decaying sugar. Eating too many would thus raise your risk of cavities.
For example, be especially cautious around candy canes. This food is mainly made of sugar, and it can crack teeth if you bite too hard. Similar concerns apply to gingerbread cookies, peppermint items, etc.
Drink Water, Not Soda
Besides dessert-type foods, the holidays also feature a lot of special drinks. These include sodas, wines, eggnog, and others. Unfortunately, such beverages damage teeth.
You see, the drinks in question are acidic, not to mention sugar-heavy. As such, they'll erode your enamel and irritate your gums in high quantities. Wine, in particular, is filled with tannins that can stain your enamel and ruin holiday photos!
To avoid the effects above, make water your beverage of choice. You could even opt for sugar-free sparkling water to be festive.
Eat Your Meat & Veggies
Of course, it isn't as if you can't have any delicious items this season. There are always "mouth-healthy" dishes that boost your oral health.
One such holiday food is turkey. This meat is a great source of phosphorus and protein, both of which strengthen your jaw and teeth.
On the vegetable side, you also have broccoli and carrots. These greens are loaded with vitamin A, which protects your enamel from decay.
Stick to Your Dental Routine
Oral hygiene can be tricky during the holidays, especially when traveling to see family. Even so, don't forget to maintain your daily dental routine. Namely, brush your teeth twice daily, floss once daily, and rinse with mouthwash as needed. That way, you can wash away food bits and plaque that could threaten your mouth.
In the end, holiday foods shouldn't get in the way of a joyous smile. For that reason, practice the tips above so your teeth stay as white as snow!
About the Practice
Legacy Trails Dental is based in Plano, TX. As led by Drs. Afshin Azmoodeh and Tatyana Romanoff, our practice emphasizes personalized care for its patients. Therefore, we perform tailored treatments that span preventive, cosmetic, and restorative dentistry, not to mention emergency procedures. Our office also offers dental sedation and SureSmile clear aligners. For more information or to book a visit, you can reach us on our website or by phone at (214)-227-1000.