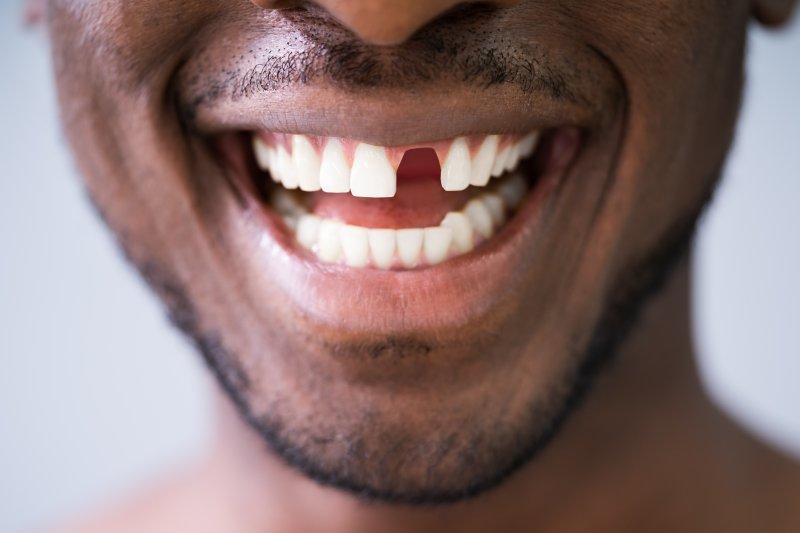 Dental implants are often recommended above other tooth replacement options because of their incredible durability and natural feel. However, because they are secured into the jaw, you may wonder whether it's possible to use dental implants to replace a front tooth.
Believe it or not, front teeth are the ones that are lost the most often, and their slenderness can cause patients a little bit of concern when replacing them. If you want to know whether restoring a front tooth with a dental implant is possible, here's what you need to know.
Can You Replace a Front Tooth with a Dental Implant?
Short answer: Yes, you can replace a front tooth this way! The procedure for replacing a front tooth is just the same as replacing any other, so if you could get a dental implant for your molar, you could get one just as easily for one of your front teeth.
Should I Get a Dental Implant for my Front Tooth?
As was mentioned previously, dental implants have many serious benefits when compared to other tooth replacement options. They're remarkably durable, which makes them well-suited to dealing with the stress that your front teeth are typically subjected to.
Dental implants also have one big benefit over some other tooth replacement options, namely that they make use of the jaw. When you lose a tooth, the jaw in the area that once held it is no longer being used. That being the case, your body will send fewer nutrients to that part of the mouth, causing bone loss over time. Dental implants stimulate the jaw, giving your body a reason to send nutrients again.
Otherwise, that bone loss can have a profound effect on the way that your face looks, even more so if it's in the front of your mouth. That can cause your face to sag, making you look older and potentially giving you the appearance of frowning.
If you're missing a front tooth, dental implants can give you confidence and quality of life that you might not have had for a very long time. If you're interested in the procedure, you should ask your dentist if they'd be a good option for you.
About Our Practice
At Legacy Trails Dental of Plano, we know that dentistry isn't just about treating teeth; it's about understanding people and ensuring that every aspect of their health is the best that it can be. We know that, so our incredible dental team will work hard to get to know you and to make you feel cared for from the moment you step into our office.
If you have any questions about dental implants, we can be reached at our website or by phone at (214) 227-1000.