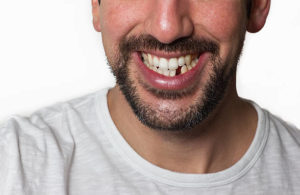 Did you know 5 million teeth are knocked out during sports activities annually? If you've lost a tooth from an accident during your favorite activity, you don't have to live with a gap in your smile. Dental implants are a great solution for athletes with tooth loss, and here's why.
Missing Teeth are Linked to Bone Loss
A lost tooth is more than a cosmetic problem. Every tooth is important for a healthy, functional smile. Losing even one will cause your jawbone to shrink because it isn't being stimulated by the root. You can lose 25% of your jaw's density the first year of missing a tooth, which will continue to shrink as more time passes.
Eventually, the shape of your face will change and your remaining teeth will shift from their positions. Not only will you look years older, but you'll have an increased risk of cavities, gum disease, and additional tooth loss.
Dental Implants are Unique
There are many methods to replace a lost tooth, but over 500,000 people are choosing dental implants every year. A dental implant is unlike any other treatment because it replaces both the root and the crown. As a result, this provides exceptional benefits, including:
Looks and Feels Natural: The implant post is hidden below your gum tissue while supporting your custom-made restoration. Your new tooth will have the support of your jawbone and blend in with your natural teeth.
Never Worry About Replacements: You won't have to worry about your dental implant falling out or getting misplaced because your bone will fuse around the post. Not to mention, dental implants are proven to last for 30 years or longer, so you'll never need to budget for replacements.
Preserves Your Jawbone: A dental implant is the only method of stopping bone loss caused by missing teeth. The implant post stimulates new bone growth to keep your jaw healthy to maintain your facial appearance and protect your remaining teeth.
Improves Your Oral Health: You'll avoid many common issues caused by lost teeth, so you're less likely to need costly procedures later. You'll invest in a healthy, complete smile that will last.
Supports Your General Wellness: Your oral and general health are connected. Missing teeth can affect your overall wellness. Replacing your tooth will promote a healthy mouth and body, so you'll always feel your best.
High Success Rate: Dental implants are the most reliable method of treating tooth loss, with over a 95% success rate.
Easy Maintenance and Care: You won't have to deal with a lengthy cleaning routine or special products. Simply brush and floss normally to ensure your investment lasts.
Cost-Effective Solution: Dental implants are the most affordable solution because they never need to be replaced, so it is a onetime expense. They also lower your overall oral health expenses by preventing common problems caused by tooth loss.
Replacing a lost tooth is equally important as wearing an athletic mouthguard if you're an athlete. Whether you're riding your bike or hitting the basketball court, don't leave home without ensuring your smile is protected.
About Dr. Tatyana Romanoff
Dr. Romanoff achieved her dental degree from the University of Colorado School of Dental Medicine and has regularly continued her education in many specialties, like dental implants and laser dentistry. She has the training and qualifications you can trust to replace missing teeth. Request an appointment through our website or call (469) 208-6017.